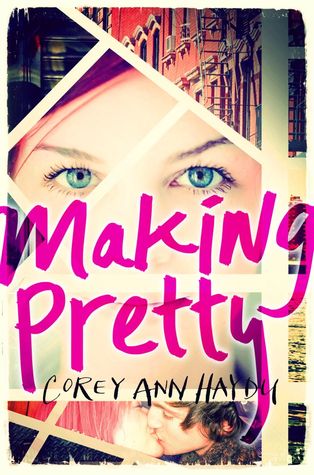 Making Pretty by Corey Ann Haydu
Genres: Young Adult, Contemporary Romance
Montana and her sister, Arizona, are named after the mountainous states their mother left them for. But Montana is a New York City girl through and through, and as the city heats up, she's stepping into the most intense summer of her life.

With Arizona wrapped up in her college world and their father distracted by yet another divorce, Montana's been immersing herself in an intoxicating new friendship with a girl from her acting class. Karissa is bold, imperfectly beautiful, and unafraid of being vulnerable. She's everything Montana would like to become. But the friendship with Karissa is driving a wedge between Montana and her sister, and the more of her own secrets Karissa reveals, the more Montana has to wonder if Karissa's someone she can really trust.

In the midst of her uncertainty, Montana finds a heady distraction in Bernardo. He's serious and spontaneous, and he looks at Montana in the way she wants to be seen. For the first time, Montana understands how you can become both lost and found in somebody else. But when that love becomes everything, where does it leave the rest of her imperfect life?
Oh my gosh. Corey Ann Haydu had me sold from page two. It's hard to find a book about a motherless girl. Sure, there are plenty of missing in action parents in YA. But a truly motherless girl is hard to find. I instantly identified with Montana. And the soft spot I had for her only grew as I read
Making Pretty
.
These characters, y'all. The author did such an amazing job at writing all of the characters in this book. They were real, raw, and flawed. Even though my favorite was Montana without a doubt, I still enjoyed every other character in this book. Well, except for Montana and Arizona's dad. The damage he did to his daughters because his obsession with plastic surgery perfection was unforgivable to me. I've never read a book with a parent that obsessed with outward appearance. While I enjoyed the change, it was hard to realize how damaging that was to these girls.
Montana and Bernardo's relationship made me smile like a fool. Their relationship was definitely flawed, but so real. The infusion of NYC into their story was such a treat. Haydu gave such an authentic account of first teenage love and New York City. It was such a treat to read.
Making Pretty
is an amazing real and enjoyable journey through the lives of these characters. If you love heartbreaking and realistic YA contemps, look no further than Haydu's latest. This book has easily elevated her on my authors to auto-buy list. Don't miss it!
**I received this book for free in exchange for an honest review with no compensation.