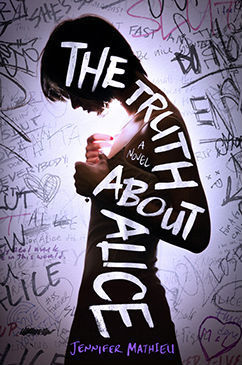 The Truth About Alice by Jennifer Mathieu
Genres: Young Adult, Contemporary
[
Goodreads
|
Amazon
|
Barnes & Noble
|
Kobo
]
Everyone has a lot to say about Alice Franklin, and
it's stopped mattering whether it's true. The rumors started at a party when Alice supposedly had sex with two guys in one night. When school starts everyone almost forgets about Alice until one of those guys, super-popular Brandon, dies in a car wreck that was allegedly all Alice's fault. Now the only friend she has is a boy who may be the only other person who knows the truth, but is too afraid to admit it. Told from the perspectives of popular girl Elaine, football star Josh, former outcast Kelsie, and shy genius Kurt, we see how everyone has a motive to bring – and keep – Alice down.
The Good
The changing PoVs.
The realness.
Amazing themes.
The Bad
Nothing. Absolutely nothing.
The Gif
Whenever I first started reading this, I totally thought, "teenagers aren't this bad" and rolled my eyes a few times. But then the realization smacked me in the face that teenagers are this bad and so are we. This book was such an eye opener. Sure, it held onto cliches and stereotypes, but it worked. The Truth About Alice was a brilliant and sad tale that left me with a smile as I finished it.

I'm really into character driven stories. The way that the author tells this story is perfect for that. There are a handful of characters that you read from their point of view. It gives you all sorts of angles into the plot. I thought it was absolutely brilliant. Because of that, you get to know all of the characters fairly well. The character I had the most love/hate relationship with was Kelsie. At first, I hated her. But then I just pitied her. Kurt was definitely my favorite, and his parts were my favorites.

This book handles a lot of issues so well. It doesn't sugar coat things. It serves them up as honest as it gets. It made me have a lot of respect for the book and the author.

In a world where we can't go a day without hearing about someone being bullied, The Truth About Alice serves as the perfect cautionary tale that still manages to give hope. It's such a quick read that you'll read it one sitting. You won't regret it, either. Fans of Young Adult contemporary fiction, welcome to your new obsession.