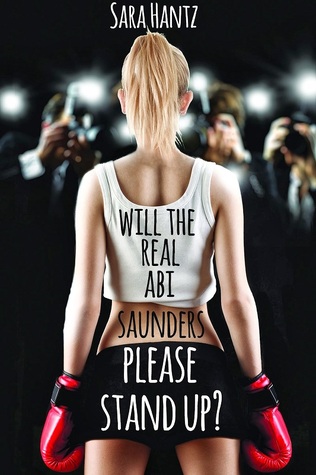 Will The Real Abi Saunders Please Stand Up?
by Sara Hantz
Genres: Young Adult, Contemporary Romance
Abi Saunders might be a kickboxing champion, but
when it comes to being the center of attention,
she'd rather take a roundhouse kick to the solar plexus any day. So when her trainer convinces her to audition to be the stunt double for hot teen starlet Tilly Watson, Abi is shocked—and a little freaked out—when she gets the job.

Being a stunt double is overwhelming, but once the wig and makeup are on, Abi feels like a different person. Tilly Watson, to be exact. And when Tilly's gorgeous boyfriend, Jon, mistakes Abi for the real star, Abi's completely smitten. In fact, she's so in love with her new life, it isn't long before she doesn't have time for her old one.

But when the cameras are turned off, will she discover running with the Hollywood A-list isn't quite the glamorous existence she thought it was?
This book rolled around at seemingly the right time for me. I needed something light that lacked all of those feels that seem to overwhelm the fangirl in all of us.
Will The Real Abi Saunders Please Stand Up?
had plenty to offer with a light story. But that became my issue with this book. It was too light. Where was the substance?
Abi wasn't a character that I found myself liking at all. That made it more of a task to trudge through the pages. She just repeatedly grated on my nerves. I don't feel like she evolved at all from the insecure girl that dominated the story and weighed it down. The other characters didn't hold much of an interest for me, either. I was bored with the entire lot.
I'll admit. The very first thing that got my interest about this book was the character's name; Abi. My cat is named Abi, and I have a soft spot for people who spell it that way. Then I saw what I thought was going to be a kick-ass main character. I just don't think that's what I got from this story.
**I received this book for free in exchange for an honest review. My thanks to Entangled Publishing and Sara Hantz.