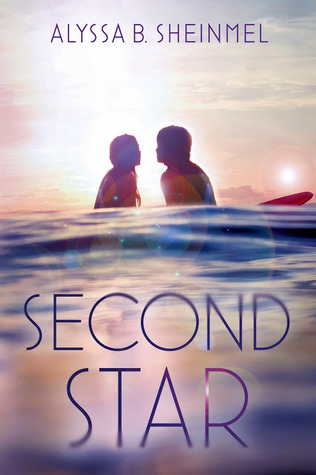 Second Star by Alyssa B. Sheinmel
A twisty story about love, loss, and lies, this contemporary oceanside adventure is tinged with a touch of dark magic as it follows seventeen-year-old Wendy Darling on a search for her missing surfer brothers. Wendy's journey leads her to a mysterious hidden cove inhabited by a tribe of young renegade surfers, most of them runaways like her brothers. Wendy is instantly drawn to the cove's charismatic leader, Pete, but her search also points her toward Pete's nemesis, the drug-dealing Jas. Enigmatic, dangerous, and handsome, Jas pulls Wendy in even as she's falling hard for Pete. A radical reinvention of a classic, Second Star is an irresistible summer romance about two young men who have yet to grow up--and the troubled beauty trapped between them.
Honestly, I had a hard time on picking which s
tar
bird rating to give this one. I settled on four, and I hope I can explain myself properly. I've noticed a lot of people have strong feelings about this book. Let me preface this review by staying that I have never read or watched anything about
Peter Pan.
I did skim over the Wikipedia page after reading this book, though.
This book was a crazy read for me. From the very first chapter, I was drawn in. It immediately had my attention. I think Alyssa B. Sheinmel is a fantastic writer, and I'm so glad to have discovered her through this book. It is a book that I'm glad to have read.
The rest of this review will contain
spoilers
. Proceed with caution if you haven't read this book.
I think the reason why I was able to enjoy this book so thoroughly was that early on I got the vibe from Wendy that the story was all in her head. Most of the time, I felt so much pity for her. Grief is an the elephant in the room that can either stand in the corner unnoticed or trample everyone in sight with it's awesome power. Wendy's mind was transformed by her grief. But at the very end, the photo she got threw me for a loop. Very clever, Alyssa. It's been days since I've finished this book, and I'm still turning that twist over in my head.
My biggest issue with this book was the double dose of insta-love. But this is one of the few times that I'll excuse it. With Wendy's fragile mental state, I can actually see it being plausible. Like I said before, grief does weird things to your mind. I think Wendy was trying to attach herself to any sense of normalcy after her brothers disappeared and her parents peaced out on their parental responsibilities.
I'm probably one of the few who will say this, but I didn't like Pete. He seemed so dishonest, and I could never get past that. Whether it was real or imaginary, I'm glad that Wendy got to have those moments and feelings with Jas. Sure, Wendy made a plethora of bad choices. I shook my head at her repeatedly throughout the book. But in her state of mind, I think it would be foolish to expect more. Sure, if she would have been the perfect saint who knew exactly how to handle her grief we would have loved her. But she wasn't. She was real.
Obviously, I enjoyed this book a lot. I enjoyed the story, I enjoyed the characters, I enjoyed the writing. Since I have no experience with
Peter Pan
, I'm in no position to say if fans of that fairy tale will like it. But I do think that fans of romances that feel real will enjoy this one.
**I received this book for free in exchange for an honest review. My thanks to Alyssa B. Sheinmel and NetGalley.