In an effort to catch up on reviews and indulge in a lazy weekend, I've rounded up a few of my recent reads for quick reviews below. Included are
Frenemy of the People
by Nora Olsen,
Breaking Free
by Winter Page, and
Dry Grass of August
by Anna Jean Mayhew.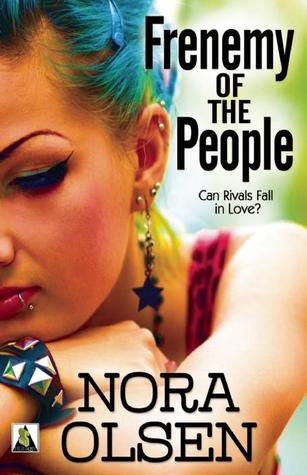 Frenemy of the People by Nora Olsen
Genres: Young Adult, LGBT, Contemporary Romance
Clarissa and Lexie couldn't be more different.
Clarissa is a chirpy, optimistic do-gooder and a top
rider on the school's equestrian team. Lexie is an angry, punk rock activist and the only out lesbian at their school.

When Clarissa declares she's bi and starts a Gay-Straight Alliance, she unwittingly presses all of Lexie's buttons, so Lexie makes it her job to cut Clarissa down to size. But Lexie goes too far and finds herself an unwitting participant in Clarissa's latest crusade. Both are surprised to find their mutual loathing turning to love.

A change in her family's fortunes begins to unravel Clarissa's seemingly perfect life, and the girls' fledgling love is put to the test. Clarissa and Lexie each have what the other needs to save their relationship and the people they love from forces that could tear them all apart.
I don't know where to begin. Parts of this book offended me deeply with it's treatment of sensitive issues. As someone who is attracted to more than one sex, I was a bit put off with how the bi-sexual character was treated and stereotyped in this book. Just in general, Frenemy of the People was overflowing with unnecessary stereotypes.
Aside from that, the characters were lacking. I didn't not get invested in Clarissa, Lexie, or their relationship. I just simply did not care. The same goes for the plot. It wasn't very fleshed out and I could definitely tell while reading this. As much as I wish that LGBT fiction were more prevalent, I don't think this is the way to go about doing it.
**I received this book for free in exchange for an honest review with no compensation.
Breaking Free by Winter Page
Genres: Young Adult, LGBT
Raimi Carter is finally a girl, just like she always
knew she was meant to be. At a new school where
nobody knows she's had gender reassignment surgery, she hopes to finally live the normal life she's longed for, happy in her own skin.

Life is great until she discovers a dangerous bully is blackmailing head cheerleader, Clare Strickland, threatening to reveal her secret: she's gay. As Raimi fights to free Clare from his clutches, the two girls move beyond friendship. But secrets from their pasts and their own fears of coming out tear them apart—maybe forever. Baring their souls to each other could cost them everything. For two girls trapped and desperately in love, only strength, courage, and trust in each other will help them break free and claim their future.
I feel like a jerk for even having to write this review. I'll let the gif speak for me. The author is a younger teenager. That's honestly commendable. I hope she continues to chase after her writing dreams. But on the other hand, it was very obvious that this was written by someone younger. I just can't bring myself to critique the book. I can only hope that this author continues to write and work on her writing style.
**I received this book for free in exchange for an honest review with no compensation.
Dry Grass of August
Genres: Historical Fiction
In a personal, powerful debut, Mayhew explores the
explosive tensions of the South in the mid-1950s
through the prism of a young girl's friendship with her black maid and the currents of violence, infidelity, and corruption that run beneath the polite surface of her family's life.
You know those books that are so good that they pull you into their world without any effort? That was
Dry Grass of August
after I got over the slow start. It was a very quick read for me and I enjoyed it. The issues covered in this book are definitely ones that capture my attention.
Fans of
The Help
will find enjoyable similarities between the two books. It has a very raw feel to it, and I thoroughly enjoyed the author's writing style. This is an unforgettable debut!