Summer is slowly coming to an end, y'all! But before it does, I have a wonderful summer read and author to introduce you guys to today. Keep scrolling to see my review of
The Sting of Summer
, read the interview with Katherine Over, and enter the giveaway!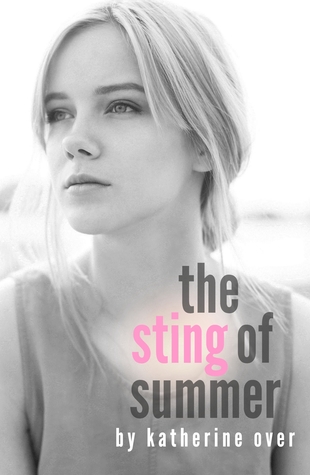 The Sting of Summer by Katherine Over
Genres: Young Adult, Contemporary Romance
Summer has arrived. For seventeen-year-old Becca,
it marks the start of the wedding season. Her family
operates an event venue in the form of a renovated barn, and nearly every weekend a wedding takes place in their backyard. Becca lends a helping hand for the accelerated schedule, but work is not the only task on her mind. Seth, her longtime crush, has nabbed a photography internship that requires wedding coverage, putting the two of them in close proximity. Becca intends to make Seth something more than a far-reaching fantasy, but it's hard to build a dream when a growing tension in her family life cannot be avoided.
Will Becca succeed in her quest for love?
Or will summer collide with her plans and leave nothing but a sting in her heart?
This summer I've been really lucky with my book choices. I've been saying it all summer long, and
The Sting of Summer
just reiterates that point for me. Usually I'm not a fan of summer. Give me snow and chilly days over sand and sun any day. But Katherine Over was able to push me past my bias and become completely enthralled and absorbed in her story and the world of her characters. At first glance it seems like it'll be an easy read, but the focus paid to serious issues is there and gives this book an edge of depth.
Becca was just such a good main character. She fit the story and setting so well that I felt like I was truly there with her. She is a very relatable character, and I can definitely see readers sympathizing with her and becoming attached to her. I know I did. The love story is also really well done. I loved the chemistry between Becca and Nolan.
Such a cute book! Seriously, if you're wanting to experience summer you have to read
The Sting of Summer
. It's a great addition to any summer reading list. It's a quick read and one that readers of all ages can identify with and enjoy!
**I received this book for free in exchange for an honest review with no compensation.
1. Describe The Sting of Summer in one word.
Transitional.
2. If you could choose any TV show to promote your book on, which would you choose?
On the Netflix show Orange Is the New Black (I'm obsessed!), sometimes you'll catch one of the characters reading a novel. There isn't necessarily a verbal acknowledgment of the book. The advertisement is quite subtle. It would be so cool for
The Sting of Summer
to be promoted that way but maybe on a more age-appropriate show, like MTV's Awkward.
3. What's your dream summer vacation?
Absolutely no resorts! I'm terrible at lounging around a pool and relaxing. I'm happiest when I'm exploring and taking in new experiences. Spanish history/culture is fascinating to me. I would love to visit the country at some point, specifically the city of Seville.
4. How similar are your main character, Becca, and you?
Becca and I grew up with a very different family dynamic. Her specific encounters throughout the book are separate from my life, but at the core I think we share some similarities. I certainly know what it's like to become so involved in a fantasy that you forget to appreciate real life. In high school, I was a head in the clouds kind-of-girl. OK, I'm still that person.
5. Choose one character from The Sting of Summer that you get to go on a road trip with. Who, where, and why?
Without a doubt, I'd choose Nolan. He's traveled all over the United States so he'd make the perfect guide. Some of our stops would include the inspirations for his tattoos, such as the Ferris wheel at the Santa Monica pier.
6. Do you have any quirky writing habits or rituals that you stick to when writing?
When I feel like I've had a particularly good writing day, I'll try to recreate that exact situation the next time I write. The room will be the same, what I'm drinking will be the same, and what I'm listening to will be the same. The result is never, ever the same! The best ideas come from spontaneity. I've gotten better at breaking this habit of believing otherwise.
7. What's your favorite comfort food?
I love food. For all occasions. For all moods. Haha. However my go-to comfort food is usually some kind of baked good that I've made myself. I love to bake. The process is almost as comforting as the eating part. Almost. :)
8. Lastly, what's up next for you? Any projects we should be looking out for?
Currently I'm working on a New Adult Contemporary and a Young Adult Horror novel. I like to wait for a story's completion before discussing any details. It gives me the freedom to scrap the project if necessary. However, my fingers are crossed for happy outcomes, and I hope to have another book released before the end of the year. All updates for future works can be found on my website (
www.katherineover.com
).
a Rafflecopter giveaway
Katherine Over was born and raised in a small town in Pennsylvania. She graduated from Point Park University with a B.A. in Psychology. She loves (in no particular order) music, random documentaries, animals, carrot cake, and of course, writing.