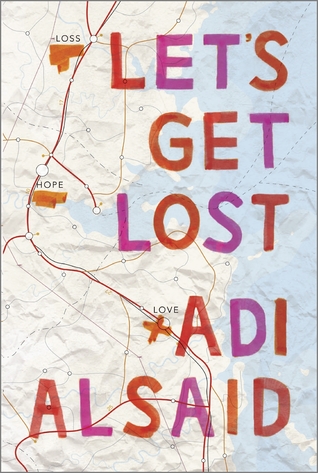 Let's Get Lost by Adi Alsaid
Genres: Young Adult, Contemporary
Publication Date: July 29th, 2014
Five strangers. Countless adventures.
One epic way to get lost.

Four teens across the country have only one thing in common: a girl named LEILA. She crashes into their lives in her absurdly red car at the moment they need someone the most.

There's HUDSON, a small-town mechanic who is willing to throw away his dreams for true love. And BREE, a runaway who seizes every Tuesday—and a few stolen goods along the way. ELLIOT believes in happy endings…until his own life goes off-script. And SONIA worries that when she lost her boyfriend, she also lost the ability to love.

Hudson, Bree, Elliot and Sonia find a friend in Leila. And when Leila leaves them, their lives are forever changed. But it is during Leila's own 4,268-mile journey that she discovers the most important truth— sometimes, what you need most is right where you started. And maybe the only way to find what you're looking for is to get lost along the way.
I have a problem. I
always
get caught up in hype for books. It soars to the top of my to-read list, I scramble to get my hands on it, and then I'm let down like no other. That's sort of how
Let's Get Lost
was for me. It's been one of my most anticipated books of the summer. For me, the synopsis was misleading. I thought this was going to be about an epic road trip with a mixture of teenagers. It wasn't. It's more like a compilation of five short stories with only one thread holding them together.
There are five parts to the book; Hudson's story, Bree's Story, Elliot's story, Sonia's story, and finally, Leila's story. Leila is the common denominator in all of the stories. I didn't enjoy the character of Leila at all and the narration didn't help me bond with her either. There was too much focus on how she looked and affected the other characters instead of just focusing on her as a person.
Hudson-
This was my least favorite story of the book. I think it really set the tone for how I would perceive Leila, and it wasn't a good thing. At this point, I still expected the book to be focused on a road trip as the blurb suggests. It wasn't. I was immensely bored with this part. It seemed to drag on and on needlessly.
Bree-
I think I liked this story the best. There wasn't a focus on Leila's looks for once. It was refreshing. Even though a lot of the elements of this story were a cliche, I enjoyed it quite a bit. Bree was a character that I would have rather learned more about instead of Leila.
Elliot-
If you ever look in the encyclopedia for books that end too perfectly, this part of the book would be there. Elliot was an alright character. A bit cliched, but I was expecting it at this point. But the way this part ends? Too sickeningly sweet.
Sonia-
Besides with Bree, this was the only time that I felt like Leila was truly on an adventure. Her and Sonia were enjoyable to read. I want more of Stoner Timmy. I was confused at how quickly this story sped towards the ending, though.
Leila-
Like I mentioned before, I didn't feel much for Leila. Her story didn't change that. While I have sympathy for what she went through, I still felt no connection to her. There were a lot of predictable things that culminated into one big facepalm at the end.
I struggle with rating this book. At times, I saw the potential. It's undeniable that Adi Alsaid has talent with writing. But I feel like this book fell so short on what it could have been. Striving for the perfect ending for every character overshadowed the stories they had to tell.
**I received this book for free in exchange for an honest review with no compensation.