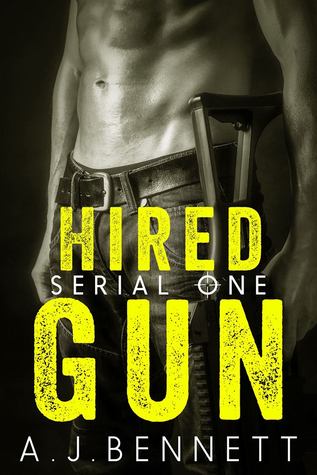 Hired Gun by A.J. Bennett
(Hired Gun, Serial #1)
Genres: New Adult, Romance
Publication Date: September 15th, 2014
Tall, dark, and sexy as hell, Thorne Hollow knows the
power he holds over the opposite sex and how to use
it.

Cast out by the gods thousands of years ago, he roams the earth working as an assassin for The Sicarii, a secret society who protects humans from all of the things that go bump in the night.

Long ago, Thorne made the mistake of falling in love with a human, and her death stripped him bare. Now he is destined to live a life of solitude. One night stands are his way of life ... until he meets a mysterious woman whose intriguing power compels him to uncover more about her and the strange magic she wields.

Hired Gun is a serial novel. Approximately 15k words. *18+ due to sex scenes and language.
I think that I'm one of the few that love the idea of serials. I'm not ashamed to admit that I gravitate towards shorter books. If an author can pack a punch into a shorter story, then count me in. And that's exactly what A.J. Bennett has done with
Hired Gun
. It sets the tone as an amazing series opener. By the time I was finished, I was on the edge of my seat wanting more.
The way that the author introduces Thorne and his background definitely captured my interest from the start. I felt like he was introduced perfectly in relation to the story. Even though this was a serial, Bennett capitalized on really fleshing out her characters and making them believable and intriguing.
Hired Gun
sets the stage for the next book in the series so well. The ending caught me off guard, because it ends so abruptly. But I feel like I can see where the next book is going. The suspense is going to kill me until I can get my hands on the next book in this steamy and explosive series!
**I received this book for free in exchange for an honest review with no compensation.