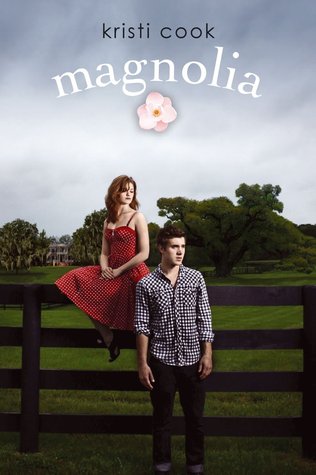 Magnolia by Kristi Cook
Genres: Young Adult, Contemporary Romance
Publication Date: August 5th, 2014
In Magnolia Branch, Mississippi, the Cafferty and
Marsden families are southern royalty. Neighbors
since the Civil War, the families have shared vacations, holidays, backyard barbecues, and the overwhelming desire to unite their two clans by marriage. So when a baby boy and girl were born to the families at the same time, the perfect opportunity seemed to have finally arrived.

Jemma Cafferty and Ryder Marsden have no intention of giving in to their parents' wishes. They're only seventeen, for goodness' sake, not to mention that one little problem: They hate each other! Jemma can't stand Ryder's nauseating golden-boy persona, and Ryder would like nothing better than to pretend stubborn Jemma doesn't exist.

But when a violent storm ravages Magnolia Branch, it unearths Jemma's and Ryder's true feelings for each other as the two discover that the line between love and hate may be thin enough to risk crossing over.
Magnolia
is simply amazing. Nearly everything about this book was perfection. The setting? Absolutely on point. The characters? Couldn't have been better. The plot? Yes, please! Seriously, I have so much love for this book! It's perfectly southern. The setting, the characters, the dialogue; it all reeks of slow accents, insults veiled with the perfectly placed "bless her heart", and everything else I love about the south. This book totally took me by surprise and swept me off of my feet.
The way that Cook weaves in a backwards Romeo and Juliet scenario had me from the start. You just knew that Jemma and Ryder were going to be together by the end even though you had no idea how. All of the ways that I pictured it happening never came, but Cook delivered anything better than I could have imagined. The storm was perfect! The relationship between Jemma and Ryder was truly amazing. There's no insta-love here.
Rejoice.
I can't say much because I don't want to give away anything.
Magnolia
is a book (and romance!) that's best experienced firsthand.
Before picking up this title for review, I had never heard of Kristi Cook before. Now I consider myself as one of her biggest fans. I'm practically tripping over my own feet to find something else by her. Her ability to not only capture the essence of the south without throwing in cliches and stereotypes, but to capture the teenage spirit and the appeal of love and hate has made me a fan for life. Do you love YA? Do you love believable romances? Do you love characters that seem to become real people? Then you simply have to read Magnolia!
**I received this book for free in exchange for an honest review with no compensation.