It's a good year to be a young adult fan!
There are SO many good YA books coming out in the Summer of 2015, y'all!
For the next few Saturdays, I'll be sharing my top 5 list for upcoming book releases for each month of summer. Get ready to pile more books on those TBR lists!
See my June list here!
5. Damage Done by Amanda Panitch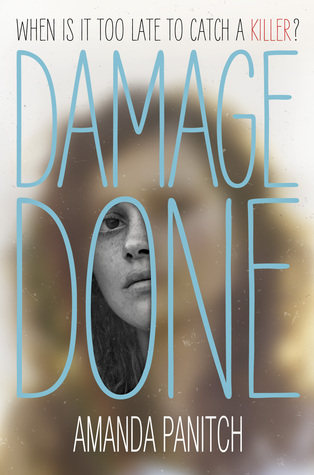 22 minutes separate Julia Vann's before and after.

Before: Julia had a twin brother, a boyfriend, and a best friend.

After: She has a new identity, a new hometown, and memories of those twenty-two minutes that refuse to come into focus. At least, that's what she tells the police.

Now that she's Lucy Black, she's able to begin again. She's even getting used to the empty bedroom where her brother should be. And her fresh start has attracted the attention of one of the hottest guys in school, a boy who will do anything to protect her. But when someone much more dangerous also takes notice, Lucy's forced to confront the dark secrets she thought were safely left behind.

One thing is clear: The damage done can never be erased. It's only just beginning. . . .
I'm so excited about this book. Every single early review coming in is full of praise and promise. Count me in for the creepy, y'all.
4. About a Girl by Sarah McCarry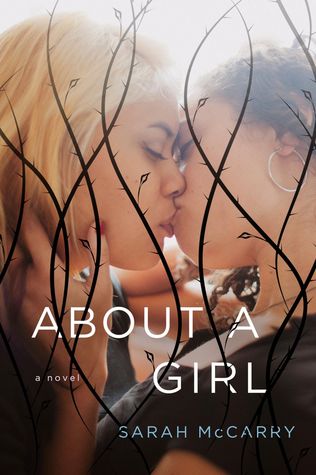 Eighteen-year-old Tally is absolutely sure of
everything: her genius, the love of her
adoptive family, the loyalty of her best friend, Shane, and her future career as a Nobel prize-winning astronomer. There's no room in her tidy world for heartbreak or uncertainty—or the charismatic, troubled mother who abandoned her soon after she was born. But when a sudden discovery upends her fiercely ordered world, Tally sets out on an unexpected quest to seek out the reclusive musician who may hold the key to her past—and instead finds Maddy, an enigmatic and beautiful girl who will unlock the door to her future. The deeper she falls in love with Maddy, the more Tally begins to realize that the universe is bigger—and more complicated—than she ever imagined. Can Tally face the truth about her family—and find her way home in time to save herself from its consequences?
That cover! That synopsis! Everything about this book is just screaming that it is right up my alley.
3. Jesse's Girl by Miranda Kenneally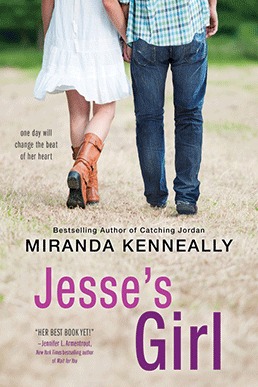 Practice Makes Perfect.

Everyone at Hundred Oaks High knows that career mentoring day is a joke. So when Maya Henry said she wanted to be a rock star, she never imagined she'd get to shadow *the* Jesse Scott, Nashville's teen idol.

But spending the day with Jesse is far from a dream come true. He's as gorgeous as his music, but seeing all that he's accomplished is just a reminder of everything Maya's lost: her trust, her boyfriend, their band, and any chance to play the music she craves. Not to mention that Jesse's pushy and opinionated. He made it on his own, and he thinks Maya's playing back up to other people's dreams. Does she have what it takes to follow her heart—and go solo?
This just screams cute contemporary, and I'm all about that life. I've heard from some people who've already read it that is is amazing and has a strong family dynamic. Yes, please!
2. You and Me and Him by Kris Dinnison
"Do not ignore a call from me when you know I am
feeling neurotic about a boy. That is Best Friend 101."
—Nash

Maggie and Nash are outsiders. She's overweight. He's out of the closet. The best of friends, they have seen each other through thick and thin, but when Tom moves to town at the start of the school year, they have something unexpected in common: feelings for the same guy. This warm, witty novel—with a clear, true voice and a clever soundtrack of musical references—sings a song of love and forgiveness.
Oh my gosh. Talk about realistic YA. I'm all for it. This book packs all sorts of a diversity punch. I'm pretty sure this will be the only time I'm down for a love triangle in a book! Holy crap, y'all!
1. Rebel Mechanics by Shanna Swendson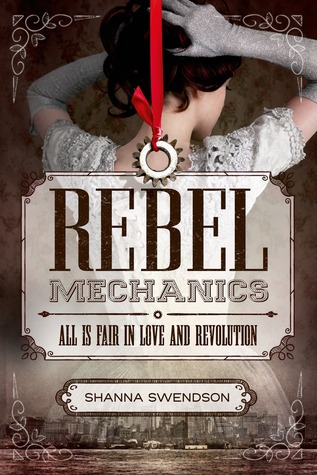 A sixteen-year-old governess becomes a spy in this
alternative U.S. history where the British control with
magic and the colonists rebel by inventing.

It's 1888, and sixteen-year-old Verity Newton lands a job in New York as a governess to a wealthy leading family—but she quickly learns that the family has big secrets. Magisters have always ruled the colonies, but now an underground society of mechanics and engineers are developing non-magical sources of power via steam engines that they hope will help them gain freedom from British rule. The family Verity works for is magister—but it seems like the children's young guardian uncle is sympathetic to the rebel cause. As Verity falls for a charming rebel inventor and agrees to become a spy, she also becomes more and more enmeshed in the magister family's life. She soon realizes she's uniquely positioned to advance the cause—but to do so, she'll have to reveal her own dangerous secret.
I blame my steampunk addiction on Gail Carriger. As soon as I saw that cover, I knew I just NEEDED this book. I've already peeked at the first few pages of my ARC, and I just know that this will not disappoint!
Are you guys excited for July's YA releases?
Who's ready to spend the summer reading with me?!