In an effort to catch up on reviews and indulge in a lazy weekend, I've rounded up a few of my recent reads for quick reviews below. Included are
Somerset
by Leila Meacham and
From Souk to Souk
by Robin Ratchford.
Somerset by Leila Meacham
Genres: Historical Fiction, Romance
One hundred fifty years of Roses' Tolivers,
Warwicks, and DuMonts! We begin in the antebellum South on Plantation Alley in South Carolina, where Silas Toliver, deprived of his inheritance, joins up with his best friend Jeremy Warwick to plan a wagon train expedition to the "black waxy" promise of a new territory called Texas. Slavery, westward expansion, abolition, the Civil War, love, marriage, friendship, tragedy and triumph-all the ingredients (and much more) that made so many love Roses so much-are here in abundance.
Somerset
wasn't a bad book by any means. But I was entirely uninterested the entire time I plowed through this chunky book. It took me over a month to read it. The story never caught my attention, and I squeezed in a few pages here and there until I was able to finish it. The plot is relatively predictable which always makes it harder to get drawn in.
I do feel like Leila Meacham is an excellent writer. I loved the way she developed her characters and their dialogue. But I think I would enjoy it if her writing reflected a sense of passion and enthusiasm. It almost felt as if she was just as bored writing
Somerset
as I was reading it.
**I received this book for free in exchange for an honest review with no compensation.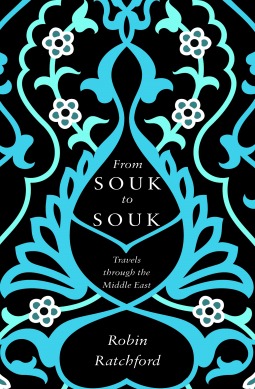 From Souk to Souk: Travels Through the Middle East
by Robin Ratchford
Genres: Nonfiction, Travel
"Most of my friends think my choice of holiday destinations is insane; others joke that I must be a
spy because they think I only go to war zones."

From Souk to Souk is the captivating story of Robin Ratchford's journeys across the Middle East. It breaks the rules of the traditional travelogue, offering not just an innovate account of his colourful journeys, but a personal insight into the region in a way which is accessible to all.

Determined to discover a part of the world that has fascinated him since childhood, Robin sets off to Istanbul. His travels take him from the historic bazaar of Aleppo in Syria to the street markets of Baghdad. In the course of his journeys he gets lost in the Yemeni capital's maze of ancient winding streets and 'goes round the bend' in Oman, meeting a kaleidoscope of clerics, artists and artisans along the way.

"If I've learnt anything from traveling, it's that most countries are often very different from how we see them through the media. It's by observing the subtleties of everyday life that you really get the feel for a place," Robin explains. In From Souk to Souk, he invites the reader to look at these countries in a different light. By exploring how history and humanity link the cities and people of the Middle East to our shared past, he provides a longer, more human perspective on the region. "I want to show that however volatile the situation is in these countries, much of everyday life simply goes on. Most people there just want a better future for themselves and their children."

With his vivid descriptions, Robin shows us why the Middle East has always caught the imagination of those who visit it. Experience the sights, sounds, flavours and fragrances of these extraordinary places as if you were really there. You might even find yourself checking flights…
I appreciate the author's honest and sensitive portrayal of the region depicted in this book. As someone with family in Tunisia (where the Arab Spring started and witnessed it through their first hand accounts), I'm rather sensitive about the region and the general view of it.
From Souk to Souk
was a nice change of pace from that.
But my fault with
From Souk to Souk
was the detachment from the author. Whenever I read about someone's travels, I expect to learn about them as well. While the honest depiction of the Middle East is appreciated and the descriptions are so well done, I struggled with not getting a glimpse of the author. Whenever I travel, I always take a piece of it home with me. Each trip changes me and leaves it's imprint on me. I wanted to see that from
From Souk to Souk
.
**I received this book for free in exchange for an honest review with no compensation.