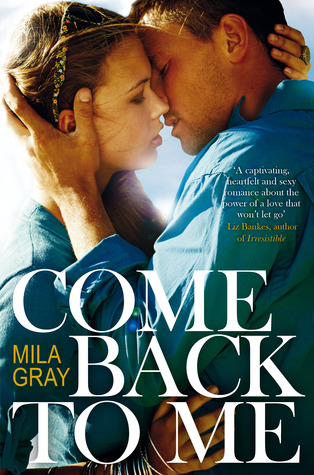 Come Back to Me by Mila Gray
Genres: New Adult, Contemporary Romance
Home on leave in sunny California, Marine and local
lothario Kit Ryan finds himself dangerously drawn to
his best friend's sister, Jessa - the one girl he can't have.

But Kit's not about to let a few obstacles stand in his way and soon Jessa's falling for his irresistible charms.

What starts out as a summer romance of secret hook-ups and magical first times quickly develops into a passionate love affair that turns both their worlds upside down.

When summer's over and it's time for Kit to redeploy, neither Kit nor Jessa are ready to say goodbye. Jessa's finally following her dreams and Kit's discovered there's someone he'd sacrifice everything for.

Jessa's prepared to wait for Kit no matter what. But when something more than distance and time rips them apart they're forced to decide whether what they have is really worth fighting for.

A breathtaking, scorchingly hot story about love, friendship, family and finding your way back from the edge of heartbreak.
The Good
Healthy relationship
Amazing main character
Flawless writing
The Bad
From the very beginning of Come Back to Me, I was hooked. The opening is absolutely heartbreaking and immediately got me invested in the story of Jessa. Too many times, I feel like New Adult books are recycled plots with different characters. Come Back to Me was unlike anything else from the NA genre I've read, and I think all of the credit goes to Mila Gray's writing. She was able to tell a tale that sucker punched me right in the feels and still make me care about it and race towards the finish. That's devious talent, y'all.

There are a handful of characters in this story that are essential and they are all so different. Even though there are some that I disliked, I loved to dislike them. Jessa's Dad is overbearing and rude, but he fits his role perfectly. I felt for Jessa and had sort of a kindred spirit thing going on with her. She was the perfect heroine for this story. I absolutely adored her and rooted for her fiercely.

Can I preach? This may sound like preaching. Forgive me. The real reason why I struggle with New Adult are the amount of unhealthy and abusive relationships that are portrayed as romantic and sexy. It ain't cute. Mila Gray absolutely dismissed that. The main thing that made me LOVE Come Back to Me was that it showcases a healthy, happy relationship. There are so many ways to portray a relationship, and it's absolutely disheartening to see unhealthy and abusive relationships take the stage with NA. Whenever you've been in one of those relationships, it isn't sexy. It's hell. Thank you Come Back to Me for proving the point that sweet and healthy can be sexy!

All in all, I wish there were more books like Come Back to Me. I can only cross my fingers hope that Mila Gray will contribute more to the genre of New Adult. I will be the first in line to pick up anything NA she writes. If you're looking for a break from the drama and cliches, do yourself a favor and read this book!
**I received this book for free in exchange for an honest review with no compensation.