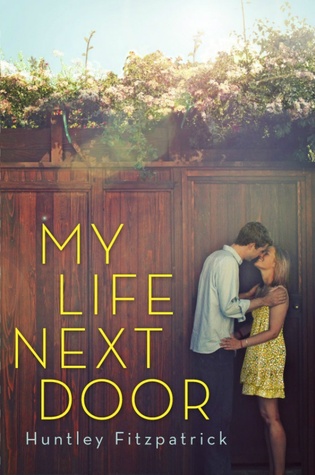 My Life Next Door by Huntley Fitzpatrick
(My Life Next Door #1)
Genres: Young Adult, Contemporary Romance
"One thing my mother never knew, and would disapprove of most of all, was that I watched the Garretts. All the time."

The Garretts are everything the Reeds are not. Loud, messy, affectionate. And every day from her rooftop perch, Samantha Reed wishes she was one of them . . . until one summer evening, Jase Garrett climbs up next to her and changes everything.

As the two fall fiercely for each other, stumbling through the awkwardness and awesomeness of first love, Jase's family embraces Samantha - even as she keeps him a secret from her own. Then something unthinkable happens, and the bottom drops out of Samantha's world. She's suddenly faced with an impossible decision. Which perfect family will save her? Or is it time she saved herself?

A transporting debut about family, friendship, first romance, and how to be true to one person you love without betraying another.
The Good
The Bad
Even though they're Muggles, the Garretts reminded me so much of the Weasleys. Whenever I first read Harry Potter as an only child of a single parent, I wanted so badly to be a Weasley child. I wanted that sibling bond. Reading about the Garretts in
My Life Next Door
gave me that same feeling. At first glance, it seems as though Fitzpatrick has delivered just another contemporary teen romance with a cute cover. But after investing in
My Life Next Door
, I've discovered that it's so much more than that. It's a story of growing up, family, friendship, and love of
all
kinds.
I really do have so much love for this book. So far, it has been my favorite read of this summer. Fitzpatrick has such an easy writing style that I easily found myself lost in the world she had created. But the characters are really what made this book for me. I loved Sam. She faced things that so many teens do today, and I felt a sense of camaraderie with her. A lot of the things she went through and emotions that she was forced to process I can recall from my own confusing teenage years. The entire Garrett family pulled me in. I felt like part of them. The entire time I was reading
My Life Next Door
, I wanted to be a member of the family.
Huntley Fitzpatrick does teen romance right. Even though this book could have easily fallen prey to the constraints of the over-saturated YA contemporary market, it really exceeds all expectations and carves its place as an original story. The plot was paced perfectly. I have yet to find a book with better pacing than this one. I was absolutely enthralled with this story. Whenever I finished
My Life Next Door
, I wasn't ready to leave the world of Sam and Jace behind. That's always a solid indication for me that I've just read an incredible book that will leave an effect on me for a very long time. Book two in this series,
The Boy Most Likely To
, can't come soon enough.