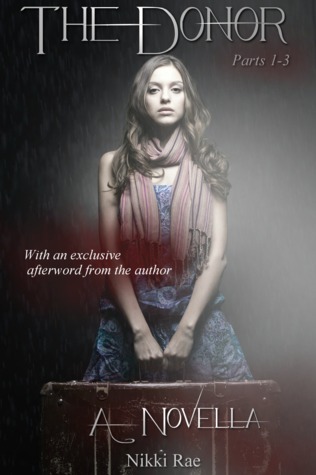 The Donor (Parts 1-3) by Nikki Rae
Genres: New Adult, Paranormal
Casey Williams and her family are poor. Her parents
work non-stop and so does she, just so they can keep
the trailer roof from leaking. They're getting by fine enough when the headaches start. Then there's the nosebleeds. And the inevitable doctor's bills. Fortunately for Casey, there's MyTrueMatch.com: an exclusive, quick, and almost easy way to pay it all back before her parents even have to know. All she has to do is give a man she's never met whatever he wants from her body.

Inside or out.
There was a lot of depth to
The Donor
that shocked me. It wasn't what I expected at all, but that is not a bad thing! The story is told at alternating times by Casey. I found it to be a very clever and effective way of storytelling for Nikki Rae.
Casey's situation is a difficult one. At times, it was almost uncomfortable to read her thoughts and what she was going through. But that's what is important. Many people are facing situations similar to hers, and it gave me an even deeper respect for what people are willing to endure and sacrifice for their loved ones.
The Donor
is an emotional rollercoaster culminating in a bittersweet end that left me at a loss for words. I devoured this book in one go at it. It captivated me. As heartbreaking as the ending is, I have to recommend this to paranormal fans and those who love a dose of reality with their books. It's one I won't soon forget.
**I received this book for free in exchange for an honest review with no compensation.