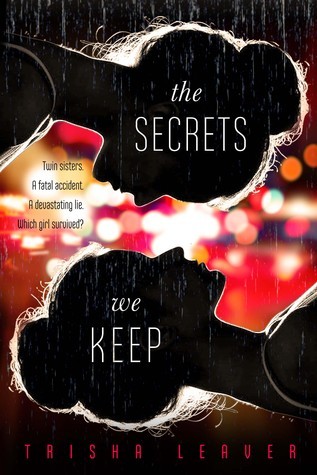 The Secrets We Keep by Trisha Leaver
Genres: Young Adult, Contemporary, Mystery
Ella and Maddy Lawton are identical twins. Ella has spent her high school years living in popular Maddy's shadows, but she has never been envious of Maddy. In fact, she's chosen the quiet, safe confines of her sketchbook over the constant battle for attention that has defined Maddy's world.

When—after a heated argument—Maddy and Ella get into a tragic accident that leaves her sister dead, Ella wakes up in the hospital surrounded by loved ones who believe she is Maddy. Feeling responsible for Maddy's death and everyone's grief, Ella makes a split-second decision to pretend to be Maddy. Soon, Ella realizes that Maddy's life was full of secrets. Caught in a web of lies, Ella is faced with two options—confess her deception or live her sister's life.
If I had to use
one
two words to describe
The Secrets We Keep
, it would be emotional rollercoaster. I've never read anything like this before, and it was gripping, heartbreaking, and fascinating. I'm always keen on books featuring twins since they run in my family. I have never ever read about twins like they're featured in this story. Grief is such a complex thing, and my heart was broken for Ella. Losing a sister would be hard enough, but thinking you're responsible for the death of your twin would be soul crushing.
Ella was placed in an impossible situation. I don't know how she came to the point of thinking her life was less valuable than her sister's, but that alone made my heart break. But in the end, I was so impressed by her growth and her strength.
It's actually quite hard to review this book. It's an emotional and haunting tale that made me question a lot. The pacing is perfect and never leaves room for a dull moment. If you love a heartbreaking story that documents the darkest and strongest parts of the human mind, I think you'll find a favorite with
The Secrets We Keep
.
**I received this book for free in exchange for an honest review with no compensation.