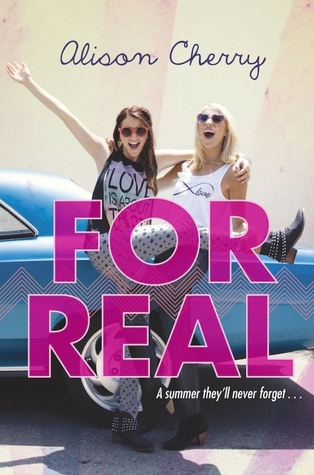 For Real by Alison Cherry
Genres: Young Adult, Contemporary
No parents. No limits. No clue what they're in for.

Shy, cautious Claire has always been in her confident older sister's shadow. While Miranda's life is jam-packed with exciting people and whirlwind adventures, Claire gets her thrills vicariously by watching people live large on reality TV.

When Miranda discovers her boyfriend, Samir, cheating on her just before her college graduation, it's Claire who comes up with the perfect plan. They'll outshine Miranda's fame-obsessed ex while having an amazing summer by competing on Around the World, a race around the globe for a million bucks. Revenge + sisterly bonding = awesome.

But the show has a twist, and Claire is stunned to find herself in the middle of a reality-show romance that may or may not be just for the cameras. This summer could end up being the highlight of her life... or an epic fail forever captured on film. In a world where drama is currency and manipulation is standard, how can you tell what's for real?
Can we talk about the cover for a moment? It's pretty. It gives off a very
Thirteen
vibe. But I think it doesn't do this book justice. Besides two girls, it doesn't tie into this book in any way. I'm a cover person. I will go for a book more because of the cover than the blurb. So I was surprised whenever I read
For Real
. It was nothing like what I expected because the cover just doesn't work for this story.
Enough digressing from this review. Regardless of the cover,
For Real
was such a good read. As an only child, it made me feel like I had missed out on having a sister. Romance wasn't the focus for me. The relationship between Miranda and Claire was what I got invested in. At times it was tumultuous and I wanted to shake them both. But by the end of the book, I was over the moon happy to see how Alison Cherry had evolved and shaped their relationship. It was beautiful!
Okay. Much like reality television, which this book relies heavily on,
For Real
was full of drama and
crazy
twists and turns. After I got to about fifty percent, all of my ideas about what was going to happen went out the window. I just settled in and enjoyed the plot. And what a doozy it was!
Not only does the relationship between the two sisters grow, the sisters themselves grow. Alison Cherry did an excellent job at development all around with this book. It has made me excited to see what else she writes in the future! If you need a break from the run of the mill YA contemporaries,
For Real
is an excellent choice!
**I received this book for free in exchange for an honest review with no compensation.