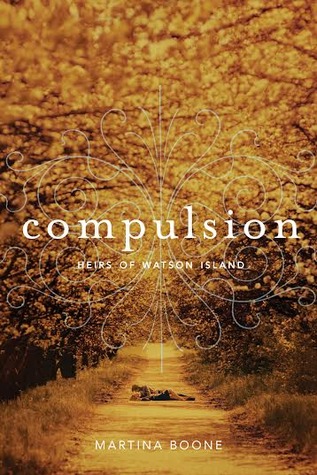 Compulsion by Martina Boone
(Heirs of Watson Island #1)
Genres: Young Adult, Paranormal, Southern Gothic
Three plantations. Two wishes. One ancient curse.

All her life, Barrie Watson has been a virtual prisoner in the house where she lives with her shut-in mother. When her mother dies, Barrie promises to put some mileage on her stiletto heels. But she finds a new kind of prison at her aunt's South Carolina plantation instead--a prison guarded by an ancient spirit who long ago cursed one of the three founding families of Watson Island and gave the others magical gifts that became compulsions.

Stuck with the ghosts of a generations-old feud and hunted by forces she cannot see, Barrie must find a way to break free of the family legacy. With the help of sun-kissed Eight Beaufort, who knows what Barrie wants before she knows herself, the last Watson heir starts to unravel her family's twisted secrets. What she finds is dangerous: a love she never expected, a river that turns to fire at midnight, a gorgeous cousin who isn't what she seems, and very real enemies who want both Eight and Barrie dead.
The setting.
The setting is what originally sold me on Compulsion. I have a long standing love affair with the Carolina coastline, especially anywhere around Charleston. Martina Boone nailed it with her portrayal of the area. Her descriptions were so beautiful that I was swept up in the story in a heartbeat. I felt like I was back in the midst of Charleston (just without the awful humidity). From the small town drama to the southern twangs, Compulsion was everything great about the lower states!
The characters.
Yes, yes, and yes. I'll talk about Barrie and Eight in a moment. Right now I want to rave about the secondary characters in Compulsion. Mark was everything perfection. The way that Martina Boone showcased his relationship with Barrie made my heartache. He was her mother, father, and confidant. I loved him. Aunt Pru was also great! The author did an excellent job at showing the adjustment she's going through with all of the changes. Martina Boone did not ignore any detail in this book and for that, I'm so thankful!
Barrie and Eight. Eight and Barrie. Beight. Errie.
Whatever we're calling them, I love them. Eight was a bucket full of swoon. Seriously. I very rarely swoon over a character in a book. I've never got behind the whole book boyfriend craze. But Eight Beaufort? Sign me right up, y'all! The way that the relationship between Barrie and Eight develops is perfect. It's a slow burn with not even a little hint of insta-love. REJOICE, y'all.
Barrie.
Jeez. I loved this girl. She was put into an impossible situation, and I admired her so much. Her curiosity and resolve really sold me on her. She isn't fainting onto a couch. But she isn't charging into battle all willy nilly either. She was so authentic. Thank you for that, Martina!
Everything.
Seriously. Compulsion was amazing. The thought and plot development in this book is incredible. Martina Boone is above all else, a story teller. And Compulsion was a story that I'm so glad that I got to read. All of the elements in this book come together in such a cohesive way. I don't know how anyone could pass up Compulsion. It's the perfect YA book for fall!
Nothing!
Na-da!
**I received this book for free in exchange for an honest review with no compensation.