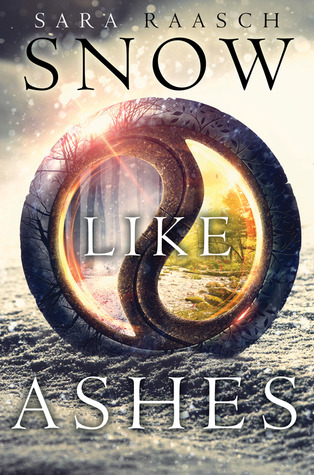 Snow Like Ashes by Sara Raasch
(Snow Like Ashes #1)
Genres: Young Adult, Fantasy
A heartbroken girl.
A fierce warrior.
A hero in the making.


Sixteen years ago the Kingdom of Winter was conquered and its citizens enslaved, leaving them without magic or a monarch. Now, the Winterians' only hope for freedom is the eight survivors who managed to escape, and who have been waiting for the opportunity to steal back Winter's magic and rebuild the kingdom ever since.

Orphaned as an infant during Winter's defeat, Meira has lived her whole life as a refugee, raised by the Winterians' general, Sir. Training to be a warrior—and desperately in love with her best friend, and future king, Mather — she would do anything to help her kingdom rise to power again.

So when scouts discover the location of the ancient locket that can restore Winter's magic, Meira decides to go after it herself. Finally, she's scaling towers, fighting enemy soldiers, and serving her kingdom just as she's always dreamed she would. But the mission doesn't go as planned, and Meira soon finds herself thrust into a world of evil magic and dangerous politics – and ultimately comes to realize that her destiny is not, never has been, her own.
This book is too hard for me to simply slap a star rating on.
I'm going to switch things up for this review.
The action.
There is plenty of action in this book to pull you in. It's well written and it really adds to the feel of the story.
The characters.
You won't find any Mary Sues in Snow Like Ashes. These characters are flawed and lovable in their own ways. Meira especially stands out as a strong main character. Some people may not agree with me because she had her moments. But I'd rather have a character who has very real flaws than a Mary Sue. I enjoyed her and her strength a lot. She makes for the perfect female lead in a high fantasy!
The Bad:
The love triangle.
Yep. You read that right. There's a budding love triangle. Just not my thing, ya'll.
The In-between:
The world building.
Okay. Let me say this up front: Sara Raasch has crafted an amazing world full of history for this series. It's truly amazing and entertaining to learn about and submerse yourself in. But. The amount of info dumping to educate the reader about said world was tiring. At times, it felt like a constant thing. Ultimately, it really soured my reading experience with this book. There was a lot of potential with the world, but the way it was introduced to the reader left me with a headache.
**I received this book for free in exchange for an honest review with no compensation.