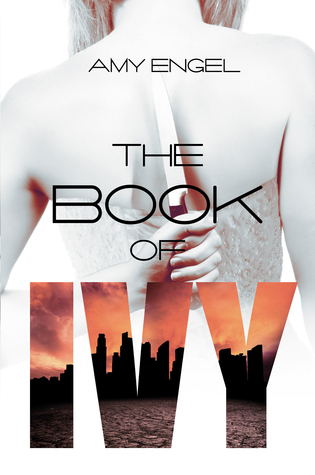 The Book of Ivy by Amy Engel
(The Book of Ivy #1)
Genres: Young Adult, Dystopian
After a brutal nuclear war, the United States was left
decimated. A small group of survivors eventually
banded together, but only after more conflict over which family would govern the new nation. The Westfalls lost. Fifty years later, peace and control are maintained by marrying the daughters of the losing side to the sons of the winning group in a yearly ritual.

This year, it is my turn.

My name is Ivy Westfall, and my mission is simple: to kill the president's son—my soon-to-be husband—and restore the Westfall family to power.

But Bishop Lattimer is either a very skilled actor or he's not the cruel, heartless boy my family warned me to expect. He might even be the one person in this world who truly understands me. But there is no escape from my fate. I am the only one who can restore the Westfall legacy.

Because Bishop must die. And I must be the one to kill him…
Right. So. This book ends in such an abrupt cliffhanger.
The Book of Ivy
has a promising premise. I'm always down for a good dystopian, so I was sold on this story before I even started reading it. The beginning was slow, but I felt like Amy Engel did a good job at establishing the world and her characters. It wasn't until after halfway through this book that I really got into it, though. But once I did, I was scrambling to read faster and faster. Then what happened you asked? Bam. The end.
I was legit angry with the ending. The beginning of the book was slow paced. It was a almost chore to push past and get into the book. Then once I finally get into the story and the action begins, I felt like it came to a screeching halt. You had my attention, Amy Engel! Why did you have to break my heart?!
The characters were exceptional. Bishop was perfectly swoony and I see him becoming very popular! His patience with Ivy knew no bounds, and I really admired him for that. He was the only character in the book that I thought was truly honest and genuine which is a hard feat whenever you consider who his family is. Ivy was very likable, too. It was very easy to get into her shoes. I was absolutely appalled with her family, though. From the very beginning, I despised Callie and their father. The characters in this book go from one side of the spectrum to the other! The development was incredible.
If you like YA dystopians, you will fall in love with
The Book of Ivy.
It has everything that we love about this genre! But be prepared for a cruel cliff hanger!
**I received this book for free in exchange for an honest review with no compensation.