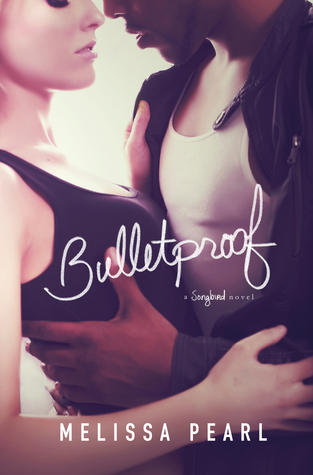 Bulletproof by Melissa Pearl
(A Songbird Novel)
Genres: New Adult, Contemporary Romance
Morgan Pritchett doesn't need anyone. Strong-willed
and confident, she's the master of organizing and
looking after everyone around her. In her mind, she's bulletproof.

But she has one weakness - men. She can't seem to live without them, yet is unable to find her perfect match. After yet another break up, Morgan promises her sister and best friend that she'll write off men for the rest of the year...but then she meets Sean Jaxon.

Sean Jaxon has worked hard to become a Hollywood actor, scoring minor roles and slowly making a name for himself as an action sidekick. After a chance encounter with the stunning Morgan Pritchett, he decides to take a risk and put his dancing skills to the test by signing on for the lead role in Superstar, a TV musical. He never thought he'd reconnect with the girl who urged him to ignore his manager and be honest with himself, but when Morgan shows up on the set as a production assistant, he realizes he's found his ultimate weakness - her.

Their passion for dance and music will bring them together, but will their relationship be able to withstand the forces determined to pull them apart? As Morgan comes face-to-face with her long-buried demons and Sean decides just how much he's willing to risk for love, these two songbirds discover something...they're not as bulletproof as they thought.
Should I count the ways in which I LOVE Melissa Pearl's writing?
Bulletproof
is a wonderful addition to
The Songbird Series
, an amazing NA series. I'm usually not much of an NA fan. There's always something that turns me off the book, and then I can never overcome it. That is
not
the case with Melissa Pearl's
Bulletproof
.
Sean and Morgan are a dynamic couple. From the very start, I loved Sean! He was just
so
swoony! Morgan showed a lot of strength. Her character developed so well over the story. The romance between her and Sean is just so lovely! Count me on Team Sorgan!
This story has a wonderful pace that keeps you invested. I was unable to put down
Bulletproof
and just flew right through it! Fans of romance will be drawn to the story of Morgan and Sean. I have no doubt in that!
**I received this book for free in exchange for an honest review with no compensation.